What's GRCJ
The Glass Recycling Committee of Japan (GRCJ) is an industrial organization that was established in 1999.

The core members of the GRCJ consists of companies who are in the business of recycling, producing, and researching/developing waste glass, as well as those whose code of ethics promote the use of waste glass.
Objectives
The GRCJ was established for the following objectives: to coordinate with the government on waste glass recycling polices; to research and develop environmental technology; to promote multi-purpose development of waste glass; to support market expansion; to advocate and offer guidance on the use of eco-friendly glass material in compliance with the international standard of Life Cycle Assessment, for the purpose of establishing a resource-recycling socioeconomic system.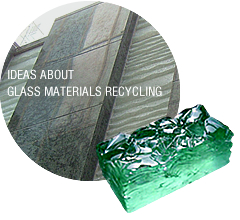 Policy
Today, we pursue a convenient and material-abundant lifestyle. But, such ways of life afflict our global environment in turn.
GRCJ's mission is to reconsider our current consumption-based lifestyle and find ways to effectively make use of limited resources, in order to transform our society into a sustainable society. Hence, GRCJ recognizes the importance of advocating for recycling waste glass and prioritizing its reuse.

Moreover, GRCJ acknowledges the significance of developing the technology to support reuse of waste glass, raising public awareness through academic conferences, prioritizing the use of recycled building material, and collaborating with government bodies and related industries to diffuse knowledge and increase demand in this area.
Expansion
GRCJ maintains a close affiliations with other organizations to advocate multi-purpose development of waste glass, create market for eco-friendly products, maximize economical efficiency, and contribute to the process of establishing a recycle-based society.
Activities
Develop and research environment conservation technology that supports use of waste glass.
Research and develop Life Cycle Assessment (LCA) related to multi-purpose development of waste glass.
Research and carry out public relations activities to popularize the use of recycled glass product and increase its demand.
Collaborate with organizations that promote resource-recycling system for waste glass in compliance with 'recycling'-related laws.
Activities other than the ones mentioned above that support the mission of GRCJ.
Technology Division
Research on waste glass recycling technology
Presentation and publication of researched material
Research on patents
Research on compliance with JIS,JASS,JAS,PL,ISO
Activities other than the ones mentioned above that support the mission of GRCJ.
Marketing Division
Promote research on sustainable design policy and multi-purpose development
Propose utilization of eco-friendly products for public construction works
Carry out PR activities through contributions of articles to publications of public bodies, publication of member journals, etc.
Domestic and international research on related laws
Provide material and assist the process of developing environmental standards of local governments and other public bodies
Administer research committee on environmental assessment methods